Overview The DoorVu is a very impressive Smart Wifi Doorbell, combining great looks, strong build quality and an array of impressive features - mea
Overview
The DoorVu is a very impressive Smart Wifi Doorbell, combining great looks, strong build quality and an array of impressive features – meaning its an ideal upgrade for anyone looking to replace their existing doorbell with a smarter alternative (smarter in both senses of the word – both looks and technology-wise!).
The features we liked the most was the ability to view what's happening at the door (via an HD camera, connected to a Smartphone app), and speak to whoever's there (via a speaker / microphone).  The DoorVu will even let you let people into your house – via a remote door-release mechanism, if necessary.
The DoorVu is easy to get up and running, but as a warning, the DoorVu does require wiring – which isn't a problem if you have an existing doorbell in place, as it uses the same wires are a normal doorbell.  If not, then you'll need to a two-core wire to wire back to a 12V power supply.

Features
The DoorVu comes with a myriad of features – including all the standard ones you'd expect from a Smart Doorbell.  The full feature list is as follows:
HD 108op video (180 degree) with live stream (via app)
2-way audio (speaker / mic)
Motion detection
Night vision
Remote door release
Real door chime (physical unit acting as a 'real doorbell' outside of app notifications)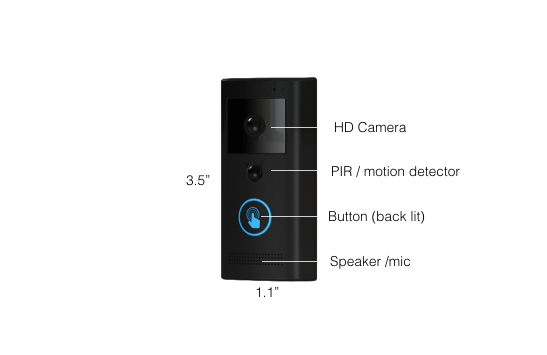 Feature review
App and remote viewing
The App that comes with the DoorVu is easy to use, and pretty intuitive – i.e. we managed to work things out pretty quickly.  Remote live viewing via the HD 1080p camera was good – with minimal delay, meaning that (depending on connectivity) you should be able to view what's happening at your front door in (pretty much) real-time.
Connectivity
As with all Smart Home devices that rely on wifi connectivity, the DoorVu needs to be not too far from your wifi-router.  For example, when we tested the DoorVu we were about 10m away from the router, with 2 thick walls in-between, and the connectivity was OK – but ideally the router would be a little closer to guarantee fast response / minimal delay.
Ease of set-up
Setting up the DoorVu was pretty easy.  The app, as previously mentioned, is easy to connect to the device.  The only thing to note is that the DoorVu does require wiring – to give it power.  This isn't a massive issue, and we'd generally agree that wired devices are a lot more reliable that wireless / battery-operated devices, so doing the initial wiring is worth the investment.
The idea of the DoorVu is as a replacement to an existing 'traditional doorbell', and if you already have a doorbell all you need to do is to swap out the doorbell part – and use the existing wiring.
Product detail – what's included with a DoorVu
So, what's in the DoorVu box?  The quick answer is 1) A Smart Doorbell 2) Some screws to fix the doorbell to your wall. N.B. the DoorVu attaches to your wall using an integrated (and very safe / sturdy) bracket – which is also included.  Oh!  You also get some instructions too 😉
Positives
Great features
Stylish, and good build-quality
Good quality HD camera (including night-vision, using IR beams)
Onboard recording (including remote recording)
12 month guarantee
Negatives
No cloud recording (although it does include on-board recoding, which is an alternative)
Power supply not included (although it uses a standard 12v, which you can get anywhere – including here)
Our recommendation
If you're looking to upgrade your doorbell, we'd definitely recommend the DoorVu.  There's a fair few smart doorbell options on the market – including the Ring – and DoorVu is very much a strong competitor in this space.
The main difference between the Ring and the DoorVu is the 'cloud storage' factor – i.e. Ring provide cloud storage (at a cost) and the DoorVu doesn't – although DoorVu does provide 'on-board recording' via a micro SD card, which is arguably a better and cheaper option.
Importantly, DoorVu is keenly priced at an RRP of £119 – compared to similar competitors who are priced at around £159 – meaning you get great value with the DoorVu.
N.B. SmartSecurity.Store – our sister site – are offering the DoorVu for a discount price at £99.  Get offer here >>