Common problems with Texecom alarms & how to fix them Tips & tricks on how to fix problems with your Texecom Premier Elite alarm system.  As a
Common problems with Texecom alarms & how to fix them
Tips & tricks on how to fix problems with your Texecom Premier Elite alarm system.  As a note, the Premier Elite can generate many problems as it's a highly sophisticated smart alarm panel, so if you're not confident with electrics / electronics, it may be better to seek advice first on how to fix your Premier alarm.
As a first step, we'd recommend booking a 20 minute appointment via TexSupport helpline – book an appointment online here >> N.B. this is a paid-for-service.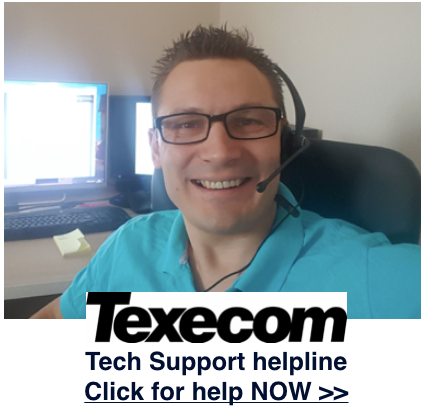 Or if it's a more serious problem, you can book an engineer to do an onsite visit to fix the problem with your Premier alarm.  Book visit here >
Texecom alarm not setting & shows ARM FAIL
If the exit procedure is started and zones are still 'active' or open at the end of the exit procedure, an internal alarm will occur (internal sounders only) and the strobe light on the external sounder will flash.
If your Texecom alarm is not arming, then the problem will be:
Zone open: it's likely that one or more zones stayed open (back door, window etc.)
Zone faulty: or a zone is faulty (e.g. you've got a faulty sensor or there's a tamper 
Exit time too short: alternatively, it could be that you didn't leave within set exit time – and that therefore you need to extend your entry / exit time settings.
How do I know what caused my Texecom Premier alarm to ARM FAIL?
Type your code in to your Texecom alarm, and the keypad will display what zone caused alarm to fail arming. There may be a number of messages being displayed and they could be changing too quickly meaning you can't read them properly.
To slow down the messages, press any arrow to slow them down and use arrows to read through all messages.
You can also cause your Texecom Premier alarm to ARM FAIL by reopening your entry doors after you left. For example, if your door doesn't shut properly and you need to wiggle the doors to shut them properly. As a tip, try to close the door on first go.
Alternatively, another reason why your Texecom alarm will ARM FAIL is if you initiated the exit procedure  and then interrupted your exit procedure, essentially confusing your alarm.  For example, if you left through your door, closed it and then realised you forgot something and returned back, thinking, ah! the alarm is still bleeping I have few seconds to grab what I forgot.  In this case the alarm can fail to arm, so we suggest starting the process again.
The final suggestion to fix an ARM FAIL, is to check all doors,windows, re-set all panic buttons after you've used them.  If having checked all your sensors, and it still registers ARM FAIL, it sounds like you have a genuine fault.
One tip, if you're in a hurry, is that you can omit the zone that appears faulty as a short term fix
How to OMIT ZONE on Texecom alarm
It is possible to OMIT individual zones when arming your Texecom Premier alarm  i.e. if a zone has a fault, or if you're leaving a pet in kitchen etc.
Only users with access rights to this function can omit zones that have been programmed as OMITTABLE by your alarm company.
To OMIT a zone on a Texecom alarm you need to:
Enter a valid User code

[****]

and press

[OMIT]

Enter zone number ( 3 digit number ), or scroll down using arrows, to the zone you would like to omit, and press

[OMIT].
Repeat for other zones if required. Press [MENU] when finished.
N.B. if a zone is programmed as OMITTABLE, there will be a star [*]  to the right of the zone number
Texecom Premier alarm panel is dead / not responding
There are various reasons why your Texecom alarm may be 'dead' / not working / not responding:
1. Sleep mode (for wireless Texecom alarm)
If you own a wireless Texecom alarm with a wireless Ricochet keypad, then your keypad may just be in "sleep mode" to preserve battery live.  This is normal.  Try pressing [TICK] to wake it up.  Remember, it only stays awake for few seconds and then will go back into sleep mode.
2. Power / battery issues (for wired or wireless Texecom alarms)
If you have a wired Texecom keypad and there is no signs of life in it, try to check other keypads  if you have more than one.
Still nothing? Then it may be a power issue – something to do with your mains power circuit breaker being off. If reloading circuit breakers helped, but you still don't have a working alarm, then it may be that you're battery backup in your alarm panel has been drained – which may result in 'date and time' being lost, or if you've got wireless devices (e.g. PIRs / keypads) then these will become disconnected from the main alarm and will need 'relearning' (something which is best done by an engineer).
In this case we'd recommend organising a visit from one of our engineers to change your alarm battery.  Book this here >>

Texecom Premier alarm won't turn off
If your Texecom alarm won't turn off when you try to enter your code, then this may be down to:
Incorrect code: you may be typing in the wrong code (and someone has changed it).
Keyfob entry code issue: if you've set up the system to use key fobs on entry, then your system may have been programmed to only allow keyfobs on entry – meaning that your masted code won't allow you to unset your system (even if it allowed you to set the system).  In this case you must use your keyfob to unlock your system.
Texecom alarm no power problem
If you've got no power to a Texecom alarm, then there could be a number of reasons for this and a number of ways of fixing the power problem:
Texecom alarm Power cut: if you've had a power cut, then your Texecom alarm will display a 'PS Failure' or 'P/O Failure' message on the keypad.   The alarm will also beep.  To fix this you can enter your 4 digit code twice in a row, followed by RESET.  The alarm will continue to beep until power has been restored.
Texecom alarm  powered down / decommissioned: if you've just bought a new property and the Texecom alarm is not responsive / has no power, then it's likely to have been 'powered down' by the previous owners.  To recommission and get your Texecom alarm working again, you need to 1) re-connect the battery 2) re-connect the power (by re-inserting the fuse in the fuse spur next to the main alarm panel.
Blown fuse & faulty battery: your Texecom alarm is both connected to mains power (240V) and also has a back-up battery (12V) inside.  If there's no power to your alarm, then this means that both your main power and battery has gone.  Check the fuse in the fuse spur, and replace the alarm battery.
Faulty alarm keypad: it may be the case that your alarm is actually working and has power to it, but it's the keypad of your Texecom alarm that is faulty, and therefore looks like the system isn't working.  To check if this is the case you need to 1) check to see if there's a green light flashing on your main alarm panel 2) check to see if the red lights on your motion sensors flick on when you move in front of them.

Texecom alarm beeping
If your Texecom alarm is beeping then you will have a fault with your system, and its trying to alert you to this.  Reasons why your Texecom alarm might be beeping and how to fix include:
Power fault: you've had a power cut.  You need to wait until the power comes back until the alarm will stop beeping.
ATS Path Fault: there is a problem with your telephone / broadband.  Your provider needs to fix this (or check you haven't unplugged the alarm).
Alarm Battery fault: you need to change the battery in your alarm.
Alarm Tamper fault: you need to find where the tamper problem is (e.g. in one of the zones / sensors) or a tamper lid fault.
Alarm not setting: because of one of the above problems, your Texecom alarm will not set.  You need to fix the problem so that your alarm will then set.
Texecom Premier alarm 'Battery fault' message on keypad
If you've got a 'Battery fault' message showing on the keypad of your Texecom Premier alarm, then this means that the back-up battery in your main panel has failed its regular test. Your alarm puts the panel battery through a test every 24 hours to make sure it would do its job in the case of a power cut.
To resolve this, you need to get your alarm battery changed.

If you want to change the battery and solve your Texecom battery problem yourself, you can follow the instructions in the following battery – as you've bought a battery already, which you can do here >>
Texecom Prox Tag isn't being detected / not working
If you own one of the wireless Texecom keypads with "Proxy reader" bare in mind wireless keypads  "go to sleep" to preserve battery life.  This will mean that your prox tags won't work.  In this case, all you need to do is to simply press [TICK] to wake the system up.
Alternatively, if your keypad being asleep isn't the issue then it may be that your Prox Tag isn't properly programmed in (or has lost its programming settings for some reason).  In this case you need to 'add' a prox tag to your system again (see note below)
How to add Proximity Tag to your Texecom Premier alarm
As well as or instead of operating the alarm system with a 4, 5 or 6-digit code number, it is also possible to operate it by presenting a Proximity Tag to the keypad (N.B. this requires your keypad to have Proximity Tag functionality).
Texecom Premier alarm Alerts
When your Texecom Premier alarm has a fault on the system the keypad will display a warning message.
In order to display the alarm or fault condition(s) that have generated this alert, you need to enter your user code – which will then result in a scrolling display being shown describing the alarm fault conditions on the system.
When alarm information is being displayed, pressing the [SCROLL] KEY will slow down the display and also allow manual scrolling through events.
For a full list of Premier alarm faults, read the following list of Premier fault messages >>
SmartCom app not working with Premier alarm
If when you're installing a Connect SmartCom to a Premier alarm you need to check the compatibility of the Premier alarm panel with the SmartCom – as older versions of the Premier (especially non-Elite versions) will not work with the SmartCom.  For a fuller explanation view this article on SmartCom compatibility >>
Texecom 'Supervision Fault'
If your Texecom alarm has a message that says 'Supervision Fault' this means that one or more of your wireless ricochet sensors has not 'polled' (i.e. communicated) to your main alarm panel (or expander) for at least 2 hours. Reasons for Supervision faults on Texecom alarms include:
wireless sensors being located too far from the rest of the Ricochet network
interference from other 'smart' devices in your property
interference from the 'building' (i.e. steel beams / steel doors).
To fix this Supervision Fault problem on your Texecom alarm, you need to either relocate your wireless sensor, change your sensor or insert a 'signal booster' in your Ricochet Mesh.
Lid Tamper on Texecom Premier alarm
If you've got a'Lid Tamper' message on your Texecom alarm, it means that the lid on your main Texecom alarm panel is loose OR the panel itself has come loose from the wall – as your main alarm box has x2 tamper switches inside of it.
To fix the Lid tamper problem you need to:
Make sure all screws are tight
Both tamper switches / springs are correctly working
Texecom ATS Path Fault – how to fix
If you've got an ATS Path Fault message on your Texecom alarm, this indicates that you have had some kind of 'communication failure' with your landline or broadband.
To remove this 'Supervision Fault' message simply:
enter your 4 digit code
then press RESET.
N.B. if this fault persists, the fault may lie in an ethernet cable being disconnected from your broadband router – so please check your router connections too.
'Radio not ready' – Texecom programming fault
If you get a message that says 'Radio not ready, wait before arming' on your Texecom alarm, then this problem is most likely down to how you've programmed your Ricochet wireless device mode on the sensors you've added (for example it happened to me when I was programming a Premier Elite Wireless Dual Technology Detector).  To fix this problem you need to check how you've programmed the sensor, and make sure you've programmed it as 'hybrid mode'.
Texecom Premier alarm reset
To silence your Texecom Premier alarm enter your 4 digit code. The internal and external sounders should then stop but if you have external siren the external strobe will continue to flash. The display will flash the zone light of the zone which first caused the alarm activation and illuminate the zone lights of all subsequently opened zones (if any). To cancel the display and stop the external strobe from flashing press [RESET].
The system should then chime and return to unset mode.  N.B. you should make a note of the zone that had activated and check to see why it may have activated i.e. whether it was a genuine break-in or whether there's a fault on the zone.
Power O/P fault system 12V message on Texecom Premier alarm
If you see a message on your Texecom alarm panel that says 'Power O/P fault system 12V', then the first thing you should do is to:
ENTER your 4 digit code
press RESET.
This should then return your system to its normal working state, meaning you'll be able to operate your alarm as usual.
The main reason this Power O/P fault message appears on Premier alarms is to do with mains power being removed – for example in the case you're having building work done or in the case of a power cut.
If entering your 4 digit code and pressing RESET doesn't work, then there may be something more critically wrong with your alarm system. The two main problems may be either related to your 'alarm back-up battery' (this is the 12V battery in your main panel) or the 'PSU' (i.e. the power supply unit in the panel).  If this is the case you'll need to get support . . .
New house – don't have Texecom alarm code
If you've just moved house and don't know the alarm code to a Texecom alarm, then there's x3 things you can do:
Contact the previous owners, and request the alarm code
Guess the number: the alarm code is a 4 digit code.  The old owners may have reset the code to a basic number like: 1234 OR 4321 OR 1122
Contact a professional installer – like us – and arrange for an engineer to default and reprogramme your Texecom alarm system.
Texecom telephone helpline
If you've got a problem with your Premier alarm that you really want to fix, then a good, quick and cheap option is to use our TexSupport telephone helpline service. This Texecom helpline gives support for Premier alarms.   Set up a call with a Texecom technical support specialist via our helpline here >>
Or you can also book an onsite visit from one of our engineers, something that may well be required given the complexity of the Premier alarm system.  Book visit here >>