ADT Honeywell Galaxy Alarm Power failure problem If you've had a power cut in your property and you have no power to your ADT Honeywell Galaxy alarm s
ADT Honeywell Galaxy Alarm Power failure problem
If you've had a power cut in your property and you have no power to your ADT Honeywell Galaxy alarm system, then this will affect your alarm – and if you have an old battery, make cause you system to go off / ring.
In the case of a power cut, you see a 'Alert! Enter Code' message on your Honeywell Galaxy alarm keypad – indicating that you have some kind of fault on your alarm system (but not specifying what the problem is).  To identify what the specific alarm fault problem is, you need to Enter your code into the key pad and press [ENT].
This will then show a message 'Status unset. 01 Event(s) >.  What you now need to do is to scroll through the fault messages using either button [A>] or [B<].
If you have a mains power problem, then it will show the message '+CU AC'.
How to fix ADT Honeywell Galaxy alarm Power Failure problem
There's generally 2 core reasons for a power failure problem on a Galaxy alarm system: a blown fuse inside your alarm panel, or a blown fuse on the power supply into the alarm.
Fuse blown inside Galaxy alarm panel: to check this you need to open up the panel and check the fuses located on the PCB (see photo below)
External power supply failure to Galaxy alarm panel (e.g. in your consumer unit or in the fuse spur linked to your alarm).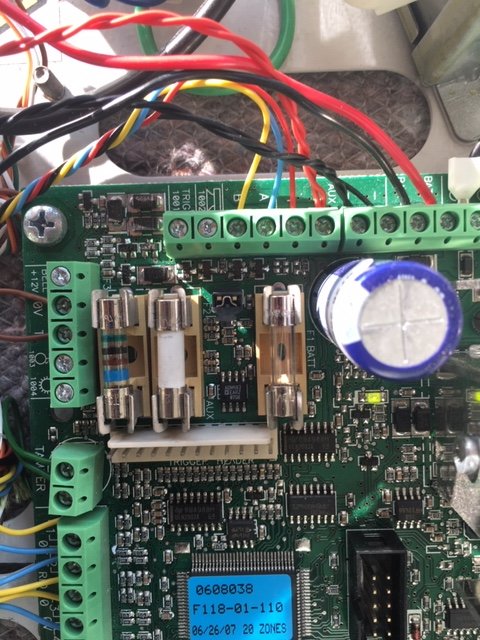 N.B. there is a setting in 'engineers mode' which if activated means that the user can't set the system if the fault remains.  To get around this you need to either:
Fix the fault
Get the engineer code, and OMIT the fault / turn the setting off.
The specific setting is called 'Stop Set' and is located at 51 / 18 in the engineers settings.  When 'Stop Set' mode is activated, this essentially means that the system won't allow you to set it if the fault remains and requires an engineer to visit the site and fix the problem for you (using his engineer code and in some cases re-programming parts of the panel).
Still, need help?
If you still need help with your alarm, then get in contact with our team to see if we can help you >>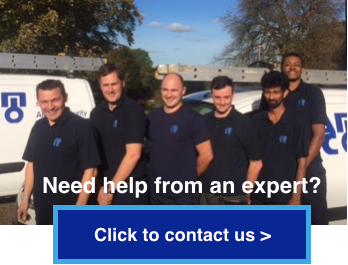 If you'd like to get your Galaxy Honeywell alarm system checked / fixed by a professional engineer, book in an appointment with one of our engineers via our online engineer booking service here >>