The best use of technology is matched with real user needs; the worst technologies are gimmicky gadgets that have no real need in your life apar
The best use of technology is matched with real user needs; the worst technologies are gimmicky gadgets that have no real need in your life apart from something to play with.
The key things to think about when building a smart home system is 'how can I best use to technology to improve my everyday home life?'.  If you keep this as the central question when choosing new home automation technologies to in your house you'll end up with the best Smart Home system possible – making your lives better / easier.
4 key Smart Home technology user needs
When analysing the average home-owner, there are 4 main user needs for smart home technologies:
To secure your home: e.g. security systems
To create the best (most personalised) environment: e.g. heating and light systems
To enhance home entertainment: e.g. music / sound / entertainment systems
To automate menial but important daily tasks / tasks you're likely to forget: e.g. garden watering systems and automated shopping / shop ordering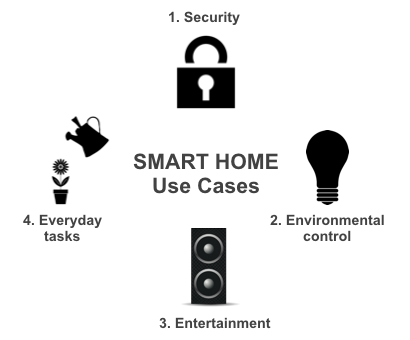 And the order of these reflects the prioritisation / level of importance of each of these use-cases for home-owners i.e. security is arguably the most important use of smart home technology, and everyday task automation the least important.
Home Security
Security is at the top of the list for most people when it comes to smart home systems.  Your home is your castle, and therefore it's important that you do your best to protect your home – whether that's from intruders, the risk of fire or even water damage (one of the biggest causes of loss / insurance claims).
The following is a quick overview of different options you have in creating the perfect Smart Home Security system:
Burglar alarm systems: systems to either prevent a break-in, or minimise loss once a burglar has access to your property. e.g. Canary or AMCO
Fire / smoke detection systems: smoke detectors or heat sensors.  e.g. Nest 
Leak detection: flood sensors or systems that automatically turn your mains supply off.  e.g. Leakbot
Power cut detection: simple detection of whether the power in your house is on or not
Alarm / security monitoring: ways of connecting your security system to a remote monitoring station meaning that you have someone monitoring your property 24/7 e.g. Alarm Monitoring Company
CCTV: camera systems that visually monitor your property, either recording to a hard-disk on site or connecting to the cloud, or giving you live-streaming via an app e.g. Arlo
Access control / Smart locks: ways of controlling access to your property e.g. via an intercom or smart lock system e.g. August or Yale
Lighting (external and internal): lighting that automatically turns on when movement is detected deterring intruders e.g. Phillips Hue, Lightify from Osram or the GuardCam
Home environment control
Controlling the internal environment of a home is a basic home-owner need.  Smart Technologies enable you to control environmental factors on an ever-granular level, enabling you to create zones in your house to suit the specific needs of that area.  The two main environmental factors most people want to control are heating and lighting.
Heating: technologies giving you the ability to set different heating temperatures in different rooms – creating 'zones' – as well as optimising heat usage / efficiencies (for example by sensing when someone is not the property and automatically turning down / off the heating). Example systems include the Nest, Hive or Heatmisor
Lights: technologies like smart switches and bulbs that allow you to pre-programme lighting moods, remotely control lighting via an app and set rules (e.g. turning lights on whilst your on holiday).  Example lighting systems include: Lightwave RF
Daily task automation
People's lives are becoming increasingly busy, and the more repetitive tasks that can be automated the better – leaving you to do the more enjoyable / rewarding tasks.  Examples of everyday tasks that can be easily automated include:
Watering / irrigation systems: set smart rules to automatically water your garden.  For example, connect it to localised weather reports and only water the garden on dry days, or if it's been dry for a certain length of time.  Gardena's a good example of a starting point for a home watering system.
Food ordering / shopping / shop delivery: order essential items for the home when you run out (or are about to run out).  For example, by using an Amazon Dash button (which when you press you'll order a certain item like toilet paper)  or Amazon Alexa.
Garage door opening: remotely control your garage door via your mobile phone.  The use cases for this are possibly less than others, other than letting other people into your garage (e.g. your gardener, handyman or mechanic).  Example systems include Garageio and Schellenberg
Home Entertainment systems
Home entertainment equipment has improved immeasurably over the years, with most homes now having 'professional grade' sound and TV systems.  Technology is always improving entertainment systems, with a focus in the last few years around 'connected entertainment' i.e. connecting up all the separate entertainment devices and sources (especially internet services).
Music / home sound systems: create zones throughout your house, enabling you to play music in different areas (these could be rooms or clusters of rooms) all from a single input source (or several input sources).  The most popular example system is the Sonos, but there's systems like Denon's Heos
Video entertainment sharing: the biggest trend at the moment is the ability to share content across screens and devices – meaning that you can watch your favourite Netflix series in the comfort of your living, in the Garden on your iPad or on the move on your iPhone – without missing a second of the action.  There's varying levels of sophistication for this type of content synchronisation and sharing from Google's Chromecast to Sky Q – with Amazon and Apple also getting in on the act (with Amazon Fire Stick and Apple TV).
 If you want something high-end to run your home entertainment system, linking in mood lighting and being able to control things like your home cinema blinds, then you should also consider an integrated Smart Home system like
Control 4
 or alternatively
Loxone
 (a lower priced but equally as sophisticated).
How to plan / design the best Smart Home for your circumstances
The key to designing the ideal Smart Home system for you and your family is to think through the various use-cases you may have in your everyday life and consider how smart home technologies could help you.
A simple way of doing this to break down your everyday typical activities as a family, starting with when you wake up in the morning and ending when you go to bed.  By doing this you'll be able to map out everyday activities that you could potentially automate / improve using Smart Home technologies.
Alongside these everyday activities, you should also think about other regular activities you may do throughout the year.  For example, considering what's needed when you go away on holiday, along with considering the different needs in the summer and winter e.g. in the summer you may want to automate watering the garden, and in the winter you may want to monitor burst water pipes, control your heating when you're away.
Other things to consider when designing a Smart Home system
Alongside mapping out daily and occasional activities around the home, other factors to consider when designing a Smart Home system include:
Technology compatibility: there are an increasing number of different Smart Home technologies on  the market, so you need to make sure they play together – or at least the ones you want / need to play together can do so.  The  biggest common communication protocol shared between most wireless smart home devices is something called Z-Wave  – so if you're buying a wireless smart home device, you should check it's part of the Z-Wave alliance or is Z-Wave compatible.
Number of apps vs single app: every Smart Home device now comes with its own app, but you should consider whether you want to use a single app to control your Smart Home devices – or use specific apps for specific devices.  Ways around this are using a single all-in-one Smart Home app like Wink or combining apps through something like IFTTT (a Smart Home recipe tool which you can use to set rules / recipes between devices).
Security of technology / risk of hacking: Smart Home devices have a history of being weak on security – largely down to a lack of care around passwords, and (in some cases) technology providers failing to build in significant-enough security features.  You can read more on IoT security issues in our IoT security guide here.
Future-proofing: making sure your Smart Home automation system is future-proof links into all the points above, especially making sure it is compatible / plays nicely with the wider Smart Home ecosystem.  A bit like the mobile phone space which is dominated by Apple's iOS and Google's Android operating systems, it's likely that Smart Home devices will anchor towards some standardised systems / operating systems.
Smart Home technology providers 
Each Smart Home technology provider generally has a history / past pedigree which gives a fundamental gravitational pull for the focus of their technology.  For example, Hive is owned by British Gas, so is particularly strong at environmental control (i.e. controlling heating via their Smart Thermostats); Texecom are historically a home security technology manufacturer, so have a strong initial focus on Smart Home devices.
Here's a list of smart home device and platform providers:
 And here's a list of additional companies involved in the Smart Home tech space
Other helpful links / guides: