> Overview The Texecom Premier Elite panel series is Texecom's flagship burglar alarm panel range, providing professional installers a robust and
> Overview
The Texecom Premier Elite panel series is
Texecom's
flagship burglar alarm panel range, providing professional installers a robust and flexible alarm panel solution with the option of integrating both wired and wireless sensors / accessories to create the most bespoke alarm system design possible (including Grade 3 security optionality).
To get an idea of what the
Texecom Premier Elite
range is like in reality, we interviewed a number of alarm installers from
AMCO Security
to get a view of how the Premier range performs from the 'coal-face', including views not only on performance but also pricing.  This is what they said . . .
– Advanced programming functionality
Well-structured menu-based programming via LCD keypads means that programming the Premier panels is easy and quick to do.  The additional option to use the Wintex computer interface, enables installers to programme more complex functionality remotely via a Windows computer interface.
– Wired, wireless or hybrid.  Grade 2 or Grade 3 options
The Premier Elite panel range comes in a number of different varieties giving installers the option to install wired or wireless sensors, or a mix of wired and wireless via a 'hybrid' system.  This flexibility is achieved using a variety of 'expanders', which enable the installer to increase the number of either wired or wireless zones.
The wireless technology at the core of the Premier Elite's wireless product is called Ricochet technology, and is unique in its use of Mesh Network technology.  You can learn more about Ricochet wireless technology here.
The number of zones available ranges between 8 to 640 zones depending the specific panel chosen, and the number of expanders added.
 The Premier Elite comes in both polymer or metal casing, providing different levels of security; Grade 2 (Polymer case) and Grade 3 (metal case).
– Multi-control options: keypad, fob, tag and app control options
The Texecom Premier Elite range provides a highly flexible system from a 'user control' perspective – i.e. the number of different ways that the user can turn on / off their alarm.  The options that the Premier Elite panels provide include:
     – Remote keypad
     – Smart Key
     – Proxy tags
     – App (via mobile phone)
– Stylish design
Texecom have put a lot of thought into the design of the Premier Elite panel range, providing some of the most stylish keypads, smart key and accessories on the market – meaning that adding a Premier Elite system to a property can be a stylish addition.
The Premier Elite keypads feature LCD displays as standard, and come in a range of different design finishes – along with the ability to install them 'surface-mounted' or 'flush-mounted'.
The different keypad finishes available include:
     – White Polymer (the basic / standard option)
     – Polished Chrome
     – Satin Chrome
     – Diamond White
     – Polished Brass
     – Gunmetal
     – Diamond Black
– Smart Home compatible & future-proof
The Premier Elite panels have the optionality to add the SmartCom module, allowing the alarm system to be connected and controlled via the internet.  The most useful part of this functionality is the ability to control your alarm system via a Smart Phone app (from the user perspective) or via Wintex (from an installer / programming perspective).
The latest innovation Texecom has brought to the market are 'Smart Plugs' giving the user the ability to connect other non-security devices (e.g. lights) to the alarm system – meaning that, for example,  you can programme a 'recipe' to turn on a light in your hallway when you open your front door (and activate your front door contact).
View an example screenshot of the Texecom Connect App below, showing the core functionality – including the ability to create
recipes
, view historic logs and set / unset your alarm remotely.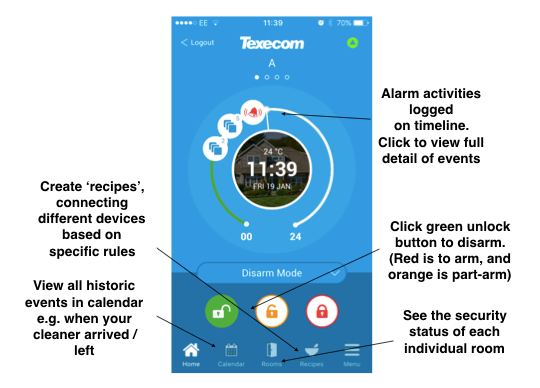 > User Features
Digging deeper into specific features for the end-user, who's using the alarm day-to-day, there are the following core features:
Keypads: multiple LCD keypads can be added, along with proxy tags and smart keys
Option for remote control: option to connect the alarm to the internet (via Smartphone app) giving the ability to control remotely
Multiple areas: multiple 'areas' can be created so you can create bespoke programming areas
Multiple user codes: multiple unique user codes can be created (25+) to enable you to track the movement / activities of people within the property
Event log: date stamped event log with 500+ historic events recorded
 > Installer features
Interviewing professional alarm installers you get a good idea of why the Texecom Premier Elite is the most installer-friendly alarm panel on the market.
Here are some of the key features that alarm installers most like about the Premier:
– Easy to install
Installers like how smartly designed the Premier is from an installer-feature perspective.  It seems to be very well thought out, with the installer in mind; for example, including extra zones on key pads (therefore limiting the use of expanders); including Poly and Metal version, both of which have generous amounts of space inside the panel meaning that there's plenty of space for a back-up battery and digicom.
– Simple to programme & Wintex functionality
The way the menu-based programming design means that it's extremely easy to programme the Premier.  The Premier also comes with Wintex functionality meaning that it's quick and easy to uplink to the alarm system via a laptop or PC, allowing the installer to programme and change parameters for each feature / zone.  The other advantage of Wintex is that it allows easy non-local support and reprogram remotely, if the system is connected to Com IP.
– Easy to give support to
Linked to the point above, because the Premier is easy to programme and because of its simplicity of design, means that the Premier is easy to provide support for – something that is critical for installers.
– Multi-resistance compatible
Each zone has the ability to set its own resistance, meaning that it's easy to take over old systems whose sensors have been set for specific resistance (e.g. like the Galaxy which is set to 1k1k).  This means that the Premier is great for panel change scenarios.
– Easily expandable
The way the Premier is architected, based around core zones and then additional 'expanders' (which can be either wired or wireless) means that the Premier is extremely flexible and can be easily expanded / built on over time – with a mix of new zones / sensors, where necessary (see an image of an 8 zone wired expander below).
– Modern and up-to-date
The Premier Elite range is an ever-evolving and improving range, with upgrades to the core technology and accessories being made on a regular basis.
– Reliable
Fundamentally the most important aspect of the Premier is the fact that it's extremely reliable, something that is hugely important for installers.
> Texecom Premier Elite alarm pricing
The Texecom Premier Elite is definitely not the cheapest alarm system on the market, however given the amount of features packed into it – essentially providing you with not only an alarm, but the ability to create a whole smart home automation system – we'd say that the Premier Elite kits are well priced.
To get the best prices, you're best buying a kit – for example, the Texecom Premier Elite 24 kit.
> Installer likes and dislikes
 Likes
Things we like about the Premier from an installers perspective:
– Ease of programming
Programming is well-structured meaning that it's easy to navigate around and quick to programme. The Wintex functionality gives another level of programming capability, especially if the installer is wanting to programme something more complex or programme remotely.
– Well-designed physical panel
When you're working on a panel day-in-day-out, it's important that the product you're dealing with is well-designed, so that there are no annoying wiring glitches or lack of physical space.  The Premier has a particularly well-designed circuit board with easy-to-access wiring blocks and enough space to add a battery and digicom
– Generally robust and reliable
Texecom kit is generally very well made, both from a design and a build-perspective, meaning that its a pleasure to work with and very rarely goes wrong once installed (correctly!).
Dislikes
Things we don't like about the Premier from an installers perspective:
– Too much functionality
the Premier can do a lot, and has a tonne of functionality – beyond doing the basics.  What this means on the negative side, is that a lot can go wrong – which can slow down programming (if you get something wrong) and it can hamper fault-finding too.  Often it's little things that go wrong, but these little things can be a time suck.
> Rating (out of 10)
Overall the feedback from the alarm installers we spoke to was that they generally 'loved' working with Texecom's Premier Elite range of security products.  With the new Texecom SmartCom and Connect App now turning the Premier into a Smart Alarm, the Premier definitely scores highly as one one of the best alarm systems available in the UK.
Given that we don't give 10's in reviews, it's 9's all round then 😉
Overall rating: 9/10
Installer rating: 9/10
User feature rating: 9/10
> Recommended Texecom installer – AMCO
We'd always recommend AMCO Security if you're looking to get a Texecom Premier installed.  AMCO have engineers across the country, and have great experience installing both wired and wireless Premier Elite alarm systems.  Visit AMCO's website at www.Alarm-Monitoring.co.uk.  Call them on 0800 1303 999 or email sales@amco999.com