Texecom's Ricochet wireless alarm technology explained Texecom's Ricochet technology is designed to address a number of key problems associated with
Texecom's Ricochet wireless alarm technology explained
Texecom's
Ricochet
technology is designed to address a number of key problems associated with wireless alarm technology, primarily:
Reliability: ensuring wireless alarm sensors reliably connect and send signals back to the central alarm panel
Scalability: making sure wireless alarm sensors have the signal strength to communicate back to the central control panel, meaning wireless alarms can be installed in large properties
Energy efficiency: all wireless equipment is battery operated.  It's important that the increased functionality of a sensor doesn't compromise the battery longevity / efficiency (so you're not constantly needing to change batteries).
How Ricochet technology addresses these main points is via what they call a 'mesh network', a concept that enables sensors to connect to each other and repeat messages to each other – and – indirectly to the alarm panel.
The idea being that Ricochet sensors essentially link together in a chain to connect back to the central control panel – with the technology identifying the shortest / most efficient route back.
The result of this 'mesh network' model is that sensors don't have to send their signal so far (as they daisy chain together) resulting in greater reliability, greater scalability and greater efficiency.  Wins all round!
How Texecom Ricochet works
Ricochet enabled sensors work by receiving and repeating wireless transmissions from other sensors – creating a 'mesh network'.
The technology is smart in that it works out the shortest route back to the central panel, and will also self-heal.
Ricochet-powered sensors receive and repeat wireless transmission from other sensors.  This means that the size, range and scaleability of systems is extended as wireless signals are no longer limited to point-to-point communications.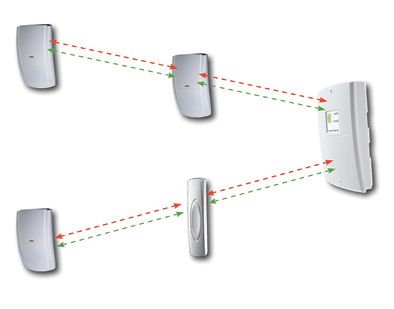 The smarts of Ricochet's technology means that if a connection is lost between two devices, the network will self-heal and automatically re-route communications via different Ricochet-enabled sensors.
Key features of Texecom's Ricochet technology
Mesh Network
Ricochet enabled devices create a system whereby each wireless device is capable of repeating messages from other wireless devices.
Bi-directional
Two-way communication between Ricochet enabled devices and the control system increases efficiency and reliability while providing enhanced functionality.
Self-healing
Ricochet enabled devices dynamically change wireless signal routing to utilise the most reliable communication pathway available.
Superior Range
Ricochet enabled devices feature class-leading point-to-point wireless range.  When used as part of a mesh-network, the range is extended as each wireless device acts as a repeater, extending the range for further devices.
Signal encryption
All Ricochet wireless communications are protected by sophisticated encryption algorithms.
Energy efficiency
A Ricochet-enabled wireless device will use 1000 times less energy than an equivalent hard-wired product.
Our review of Texecom Ricochet Technology
We've had experience and feedback from 100's of installations of Texecom's Ricochet equipment, and the feedback has been overwhelmingly positive.
The fact that Ricochet gets over the point-to-point signal transmission is a big bonus – addressing reliability, scalability and energy efficiency issues.
We give Ricochet Technology an overall rating of 9/10.