Guide to the Best Home Security Systems in UK When considering what's the best security system for your home, you need to think about the different
Guide to the Best Home Security Systems in UK
When considering what's the best security system for your home, you need to think about the different vulnerabilities of your property – i.e. where people could break-in, and therefore how you could stop them and/or monitor them.
Here's our guide to the best security systems for a home in the UK, taking into account 3 different vulnerabilities:
Break-ins / home intrusion: AMCO's LiveTalk monitored alarm, LiveTalk is a unique way of scaring off burglars
View what's happening in the house: WifiVu is an simple but effective way of seeing what's happening in your property using a smartphone app
Front door access
If you're wanting to keep an eye on what's happening around your front door, something which most people are interested in doing – as the front door is the main access point of most people's homes, then the best security solutions we'd recommend for doing this are either a Smart Doorbell or a Video door entry system.
> DoorVu – Smart Doorbell
The
DoorVu
is a market-leading Smart Doorbell, incorporating a wifi camera, motion detection sensor, speaker / microphone and door release system – meaning that you can see who's at your front door, speak to them and let them in if necessary.
The DoorVu is fully controlled via a Smartphone app, meaning that you can view what's happening at your front door wherever you are.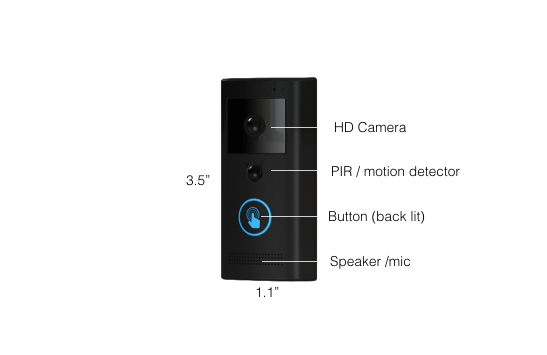 > AccessVu – Video door entry system
Traditional door entry systems are still very much a good option if you're looking for a solid security option to be able to monitor your front door area.
Door entry systems are usually made of x2 component parts:
Door entry unit
Video Monitor
The AccessVu video door entry system is a great brand to go for is you're looking for something solid and well-designed; something that will be a stylish addition to your front-door furniture.
> Home intrusion / break-ins
If you're looking to prevent break-ins to your home, then opting for a monitored alarm system is the best bet.  Monitored alarms come in various different types, the 3 typical options being:
Auto-dialler monitoring: this is where the alarm system automatically calls / texts you with a pre-programmed message (this has no 3rd party verification of a false alarm)
Call-back monitoring: this is where the alarm system sends a signal through to a monitoring station, and the monitoring station (a human controller) calls your home / key-holders to warn you of an activation.  In some cases the police are also called, although this does not include any level of verification.
Immediate audio-response monitoring: this is where once the alarm is triggered, the monitoring station can immediately listen & talk into the property to verify the activation.  If burglars are heard, the monitoring station will call the emergency services (police, fire or ambulance).
> LiveTalk monitored alarms from AMCO
AMCO Security install the best monitored alarm system on the market – something called LiveTalk monitoring.  Based around the LiveTalk speaker / mic system, LiveTalk provides 24/7 reassurance that there's someone always there ready to react to your emergency situation.
LiveTalk can be added to most existing alarm systems, so if you've looking to upgrade your alarm to a better system we'd definitely recommend LiveTalk.  Upgrades to LiveTalk cost in the region of £159 to £259 (£199 being a typical price – at writing of this article, Jan 2018).
Remote home viewing
If you're wanting to remotely keep an eye on your property, then traditionally the only route you could go for was a professionally installed CCTV system.  Today, there are multiple different routes you could go down if you're wanting to keep an eye on your property:
CCTV (professionally installed or self-install)
Wifi cameras
Best CCTV systems
The best CCTV systems on the market tend to be Hikvision (if you're going for the high-end) or SuperVu (if you're going for mid range of the market).
Best Wifi security cameras
The best Wifi Cameras available are a mix – depending on the level of functionality you're looking for.  If you're looking for a security camera that also acts as an alarm (i.e. can not only see, but also detect and has an onboard siren) then something like the Canary is probably the best 'all-in-one' security camera solution available.
If you're looking for something more simple – but robust – then the best wifi security camera on the market is the WifiVu – which incorporates all the core functionality of something like the Canary, but doesn't go overboard i.e. the WifiVu lets you remotely view your property via an app, let's you speak and listen into the property and record video footage / take photos remotely too.