Texecom SmartPlug review & Guide Texecom SmartPlugs (GFA-0001) are a core component to Texecom Connect - Texecom's smart home automation platfor
Texecom SmartPlug review & Guide
Texecom SmartPlugs (GFA-0001) are a core component to Texecom Connect – Texecom's smart home automation platform – as the smart plug provides a way for Texecom's Connect platform to move beyond security devices, and into wider home devices.
The Texecom Smart plug itself is a relatively simple piece of kit, and looks like a kind of old school 'timer socket', but inside there's a good amount of sophistication and functionality to the Smart Plug.
N.B. Texecom smartplugs only work in conjunction with the Texecom Premier Elite alarm panel, Texecom Connect SmartCom and Texecom Connect App. You need all x3 pieces of equipment in place to make your smart plugs work.
How Texecom Smartplugs work
The basic model of how the Texecom Smartplug works with Texecom Connect App and Texecom Connect SmartCom is as follows . . .
The core idea of the smart plug being that a home owner can connect various home devices via the smart plugs (e.g. lamps, home appliances / devices) and then connect these to the output triggers of your property's security sensors – along with other output triggers like 'time of day'; all of this is controlled and configured via Texecom's Connect App, and specifically by creating what Texecom call 'recipes'.
How to set-up Texecom Smartplugs
Setting up Texecom Smart plugs is easy, once you've got the SmartCom and Connect App set up. The first part is to register smart plugs on the system.
An important thing to note is that Texecom's Smart system only works with Texecom plugs, and is not compatible with any other brand of plugs. This is because Texecom smart plugs connect via a Ricochet network rather than a wifi network (like normal Smart plugs).
Creating recipes for Texecom Smartplugs
A recipe is a combination of causes and effects, meaning that when one (or more) thing happens on the alarm system, then this causes another thing on the alarm to happen.
For example, you could create a recipe that said 'turn on hall light when front door is opened & alarm is set' – which would mean that every time you arrived home and opened the front door, your hall light would turn on so that you could see what you're doing.
How to set up a recipe in the Connect App
Add a recipe to your alarm system by clicking the '+' button on the top right of the screen. Then to start making a recipe, you need to click '+' in the cause section.
Then select what 'cause' you want to make, out of the list of system, devices and rooms. For example, choose 'open front door contact contact' (meaning when the front door contact opens it 'causes' something to happen ).
You then need to select an 'effect' to be linked to your cause(s). For example, you could choose 'room' and then select 'devices' in the room which you want to be linked to the effect – e.g. a Smart Plug socket in Hallway (i.e once the front door opens, it has an 'effect' on your hall light).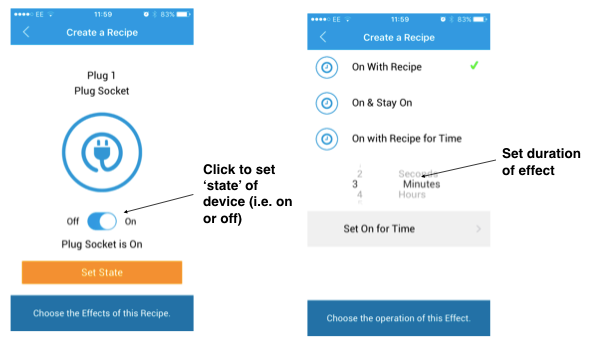 Once you've chosen your plug socket, you then need to select the 'state of the plug (i.e. on / off), and if you select 'on' you then need to select a 'duration' of the effect.
Texecom Smart Plug review
Our overall experience with Texecom's smart plug product has been very positive. They're quick and easy to install, and if you have the technical ability to programme recipes in the Connect app, the Texecom SmartPlug is a very powerful device.
As an overall review, we'd give the SmartPlug a rating of 9/10
Best Prices for Texecom Smart plug
If you're wanting to buy a smart plug, the the best price you're you'd expect to pay for the smart plug itself is around £35. Installers will charge extra for the installation of the smart plug, as there is about 15 / 20 minutes of programming needed to get the most out of your smart plug.
Still, need help?
If you still need help, get in contact with our team to see if we can help you >>