AMCO Security are looking for experienced Texecom alarm installation engineers to join their growing national team. If you've got the experience in i
If you've got the experience in installing Veritas or Premier alarm systems, then this is the job for you.
Join the best
Wintex programming
SmartCom Connect installation & smart alarm functionality (including setting up recipes and smartplugs)
Ricochet wireless installation
General Texecom alarm fault-finding (wired and wireless)
London
South East
Birmingham
Manchester
Leeds
York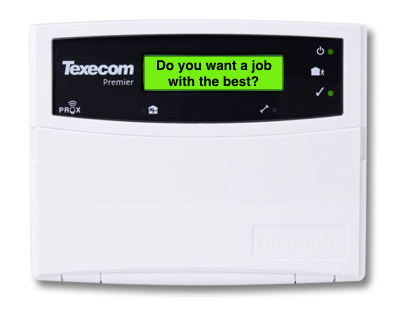 Beyond installation skills, AMCO are looking for alarm engineers who
Are hard-working & entrepreneurial
Have strong field-craft skills
Are happy working individually or as part of a team

Up-skill & progress your career
If you're looking to progress your career, then a job as an AMCO Security alarm & CCTV engineer is a good option as we invest in training our engineers and work with some of the most innovative products in the business.
Don't worry if you're not already a Texecom expert, AMCO provide FREE training to up-skill you.
Security engineer job application