Texecom Premier alarm battery fault If you've got a Texecom Premier Elite alarm and it is showing a message 'System Alerts' / 'Battery fault' then
Texecom Premier alarm battery fault

If you've got a Texecom Premier Elite alarm and it is showing a message 'System Alerts' / 'Battery fault' then this is an indication that you have a battery fault with your alarm.

In this case the best thing you can do is to replace the battery in your Texecom Premier alarm panel.  You can replace your battery yourself (buying a battery here) or you can pay for one of our engineers to visit your property and replace your battery for you (book visit online here)


N.B. Texecom Premier alarms use 12V batteries, most usually the 3.4ah 12V battery, which is located inside the main alarm panel (as per the image below)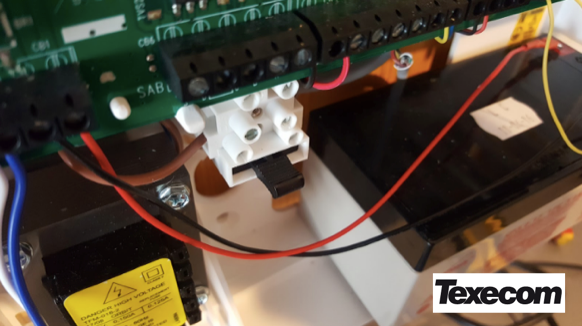 Texecom Premier alarm power cut fault

If you've had a power cut, then your Texecom Premier alarm will show a message saying 'Mains Power Off'. To get rid of this message on your keypad and reset your Premier alarm after a power cut, you need to
ENTER your 4 digit code
PRESS [RESET]

Generally if you've had a power cut and you have a good battery in your alarm panel, then having a power cut shouldn't create issues for your Texecom Premier alarm, as the battery back-up will maintain power to your system.

If your battery back-up isn't working properly, then it's likely that your Texecom alarm will go off and start ringing.

If your Texecom alarm battery is faulty and too old and your alarm is ringing, then you'll need to book an engineer visit to fix this. BOOK APPOINTMENT HERE >>